Gentle Sedation Dentistry in Mount Laurel & Voorhees, NJ
Also known as sleep dentistry, sedation dentistry is an easy way for anxious patients to get the dental treatment they need in a way that makes them feel at ease. Whether you get a little nervous about a cleaning or you're going through extensive reconstruction work, we can help keep you comfortable and relaxed while you're in our care. When our modern office amenities aren't enough to calm your nerves, our sedation options can provide you the peace of mind you need!
CONTACT US
---
Types of Sedation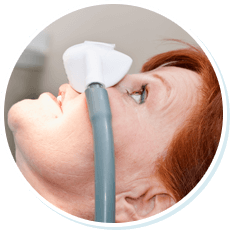 Nitrous Oxide (Laughing Gas)
Nitrous oxide is one of the most commonly used types of sedation. It's a sweet-smelling, colorless blend of gases that often goes by the name "laughing gas." When inhaled, nitrous oxide creates feelings of well-being and peacefulness. This safe and easy treatment is a great option for most patients, especially children and adolescents. To reverse the effects of nitrous oxide, all you have to do is breath regularly for a couple of minutes and you'll feel completely normal in no time.
Oral Conscious Sedation
With just one pill taken prior to your appointment, you will feel completely at ease throughout your treatment. We can perform almost any procedure with the help of oral conscious sedation, from deep cleanings and fillings to wisdom teeth removal. It'll seem like your visit is over before you know it!
General Anesthesia
General anesthesia can make dental visits less stressful for patients with severe dental anxiety, special needs, or complex treatment plans like oral surgery and dental implant placement. Anesthesia is administered by a certified professional and monitored throughout your treatment to ensure your comfort and safety.