Children's Dentistry
Growing Smiles is the premier provider for all of your child's dental care needs in New Jersey. We offer gentle, comprehensive care for children of all ages: toddlers, teens, and every age in between! Children have different needs for treatment and communication than adults do, so we use kid-friendly terms, work at a slower pace, and allow plenty of time for your little ones to ask questions. We know that their experiences at our Voorhees or Mount Laurel dental office will shape the way they view dental visits for many years to come, and we take that responsibility seriously.
---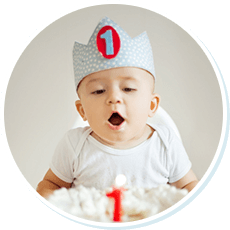 First Visit by First Birthday
If you're not sure when to bring your child in for his or her first checkup, it might be sooner than you think! The American Academy of Pediatric Dentistry recommends that children visit a dentist by their first birthday. Great oral health starts with the first tooth.
Kid-Focused Dental Care
As our practice name shows, we love to watch our patients' smiles grow. Whether we're teaching a toddler how to brush her baby teeth or fitting a little leaguer for his first athletic mouthguard, we genuinely enjoy working with children and helping them enjoy a lifetime of healthy smiles. We encourage kids to get interested and involved during their visits too, because we truly believe that long-term oral health is a team effort.
Routine Dental Cleanings & Exams
Protective Dental Sealants
Fluoride Treatments
Tooth-Colored Fillings
Pediatric (Baby Teeth) Crowns
Custom Athletic Mouthguards
Space Maintainers, Retainers & Habit Breakers (i.e. to stop thumb sucking)
Sedation Dentistry
CONTACT US
Kid-Friendly Office
In addition to providing gentle children's dentistry, we've also added some kid-friendly amenities to keep our younger patients comfortable and entertained. Your child is welcome to enjoy these during their time at Growing Smiles Pediatric and Family Dentistry!
Video Games, Toys & Books
Cartoons Above Dental Chairs
Cozy Blankets & Pillows
Treasure Chest
Balloons
Cavity-Free Club with Prizes
MAKE APPOINTMENT