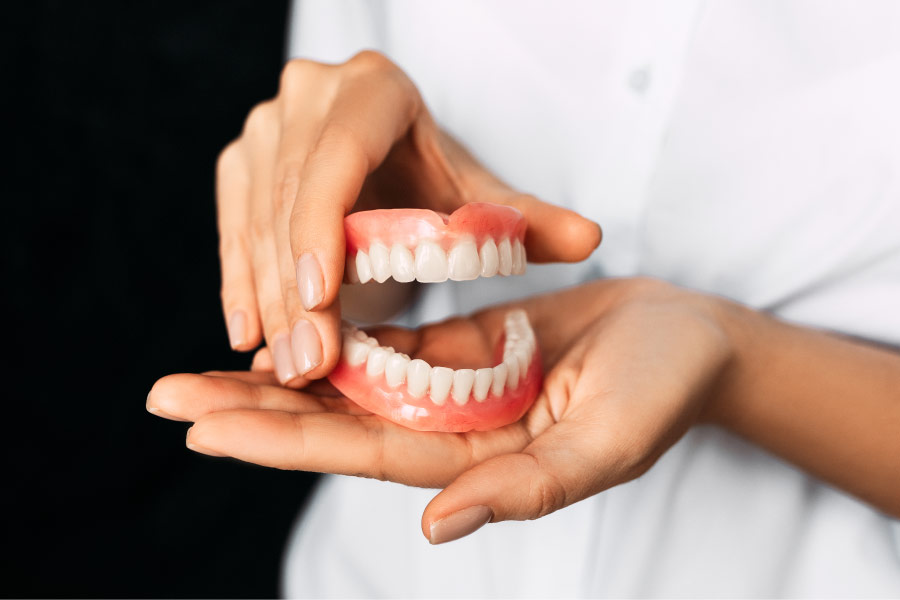 When you're missing teeth, dentures are a great tooth replacement! They restore your smile, chewing function, and confidence. Like your natural teeth, dentures need to be properly cleaned and cared for. How do you clean dentures?
Brush Them at Least Once a Day
We recommend brushing your dentures at least once a day. Don't use toothpaste! Toothpaste is often too abrasive and can scratch the dentures. Use a denture cleaner or a mild dish soap. You should also be sure to use a soft-bristled toothbrush.
Soak Your Dentures Overnight
You don't wear your dentures while you sleep. When they're out of your mouth, your dentures need to stay moist. Drying out can make the dentures warped and brittle. After taking them out for the night, soak your dentures in a denture cleaner. The next morning, rinse them well before putting them back in your mouth.
Don't Use Hot Water
When you clean or rinse your dentures, use cool or warm water. Hot or boiling water can warp the dentures, so they no longer fit your mouth. Thanks to denture cleaners, you don't need to use hot water for sterilization purposes.
Clean Your Mouth, Too
Even if you have no natural teeth left, you need to keep your mouth clean after removing your dentures. Using a soft-bristled toothbrush, massage your gums and clean your tongue, cheeks, and roof of your mouth. If you have partial dentures, be sure to clean any natural teeth you have left at least twice a day.
Full & Partial Dentures at Growing Smiles Pediatric & Family Dentistry in Voorhees & Mount Laurel, NJ
We're pleased to offer services for patients of all ages at our two locations! If you're missing teeth and interested in restoring your smile, full or partial dentures could be the perfect solution. Please contact us today if you have questions or want to schedule an appointment with Dr. Sekhon!