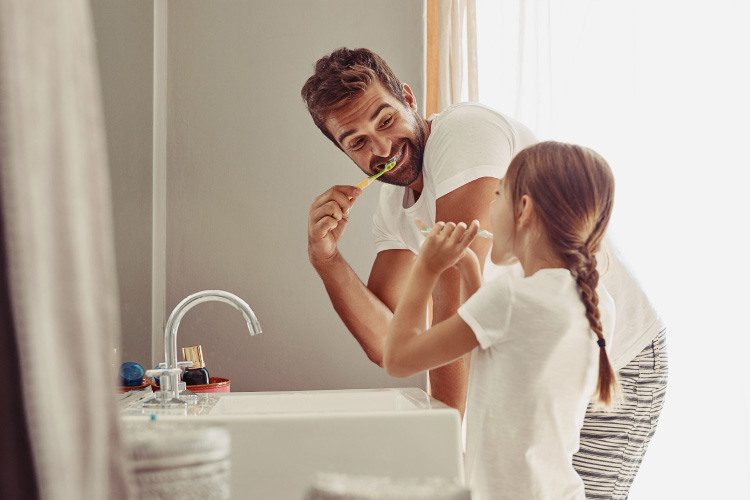 Growing Smiles Pediatric & Family Dentistry understands that maintaining any kind of routine during the COVID-19 pandemic is a challenge, especially if you have children at home who are off their regular schedule. Young kids don't understand why they can't play with their friends or go to the park. How is anyone supposed to remember to brush their teeth if they can't even remember what day it is? Here are some ideas for maintaining your kids' oral health routine.
Smart Snack Choices

It's likely that we're all snacking more than usual during this time of stress. Plus, many parents are busy trying to work from home and don't have time to monitor what the kids are eating all day. Unfortunately, even though many things have been forced to take a break during COVID-19, tooth decay isn't one of them. So our first suggestion is to limit the amount of unhealthy snacks in the house and make healthy snacks easily accessible. Bananas, strawberries, blueberries, mandarins and grapes are easy for kids to eat on their own. Some other ideas include sliced carrots, sliced celery with peanut butter, sliced apples or pears and cut up pineapple. Other healthy snack options are various types of cheese, cottage cheese, yogurt, nuts, oatmeal, hummus and fruit smoothies. You know what your kids will eat, so make it easy for them to make a good choice when they get hungry.

Stay Hydrated

Our next suggestion is to make it appealing for your kids to drink water. Fill individual water bottles and keep them in the fridge. Set a good example by limiting your own consumption of soda. Help children become accustomed to drinking water so they won't crave sugary drinks or sports drinks which contribute to tooth decay. Staying hydrated helps increase saliva flow. This is important because saliva contains minerals that help tooth enamel repair itself after an attack from cavity-causing bacteria. Drinking water frequently also cleans the mouth of food particles and bacteria.

Find a New Way to Remember to Brush

In order to prevent tooth decay, make good oral hygiene a habit. If tooth brushing used to happen right before the kids went to school or left the house for an activity, link it with some new routine. If everyone is staying up later than usual for a movie and snacks, be sure tooth brushing happens right before bed. Keep fast to the rule about no food after bedtime tooth brushing. Set a phone alarm, play a favorite song, or make brushing and flossing a family activity. Some routines will naturally become more lax during these uncertain times but don't let dental hygiene become one of them.
Preventive Care in Voorhees & Mt. Laurel, NJ
Your efforts will be rewarded with better reports when you are able to bring the family back in to one of our Growing Smiles Pediatric & Family Dentistry offices for regular preventive visits. We hope to soon be able to open up our practice to serve you and your family. Rest assured that extra precautions will be taken to stop the spread of disease.