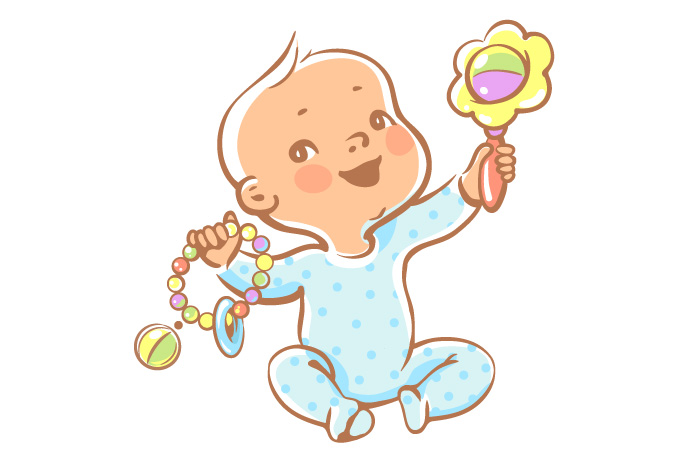 We often get parents who ask us when they should start taking care of their babies' teeth. The answer: even before they come in! It's always good to get them used to the idea of cleaning their mouths as soon as possible. As their teeth begin to come in, you can introduce them to different dental tools made just for their delicate teeth and gums, so they can work their way up to getting used to a regular toothbrush.
A Washcloth or Gauze
Wiping your baby's mouth with a wet washcloth or wrapping a piece of wet gauze around your finger and gliding it over your baby's gums and teeth is a perfect first way to introduce them to the feeling of having a dental tool in their mouth. Start by doing this once a day and building up to twice a day as your baby gets more used to it.
Finger Toothbrush
These caps slide over your fingers so you can clean your baby's mouth yourself. This is a great option for younger babies who can't quite grip an infant toothbrush on their own yet. You can use a small amount of fluoride-free toothpaste when your child is between one year and eighteen months old.
Infant Toothbrushes
These soft, flexible brushes are perfect for little ones who are teething. Infant toothbrushes gently massage gums and teeth so that babies can develop oral hygiene habits on their own at an early age without any pain. They come in many cute shapes to make toothbrush time playtime too. They are even dishwasher safe!
Not all infant toothbrushes are alike. Some are both toothbrushes and teething toys all in one, with bristles on the handles. Others come with an accompanying storybook to encourage babies and young children to make oral care an experience.
When to Take Your Baby to the Dentist
As soon as your child's first tooth erupts, it's time to take them to the dentist! It may seem very early to do so, but having a dentist take a look at your child from an early age will ensure that they are developing properly and get them used to the idea of going to the dentist as they get older.
We love accommodating younger patients here at Growing Smiles and are happy to assist you and your little ones with their dental care. Contact us to schedule appointments for the whole family!