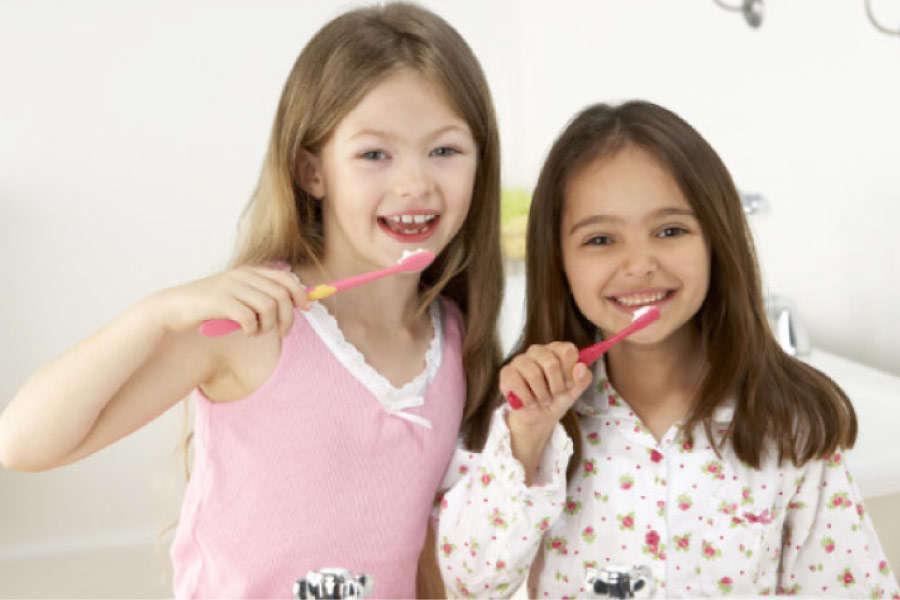 As many of our team members are parents themselves, we understand firsthand just how difficult it can be to get your child excited about good dental hygiene, eating vegetables, and doing chores. However, it's crucial to encourage your kids to take great care of health, including their smiles. Here are our top three tips to help get your little one excited about keeping their teeth and gums healthy and strong!
1. Take Care of Your Teeth Alongside Your Little One
Kids are notorious for copying everything adults do, so take advantage of this when it comes to getting your child excited about their brushing and flossing. One of the best ways to get your child interested in oral health is to do your oral hygiene routine right next to them. They'll see you brushing your teeth and making it fun, and they will want to join in, too! Brushing your teeth together turns a mundane task into a fun bonding experience that they can do with you.
2. Purchase Flavored Toothpaste & Fun Toothbrushes
Who doesn't love a fun-colored toothbrush with characters? We know we do! There are a wide variety of toothbrushes designed with kids in mind. You can get a toothbrush that plays music and has a built-in two-minute timer, or you can get a light up toothbrush with your child's favorite animated character. The fun doesn't stop there! You can also purchase kid-friendly toothpaste in a range of flavors from bubblegum to watermelon. Incorporating things they love into their tooth brushing routine will help them look forward to it instead of dreading it.
3. Games & Rewards
As you're getting your child used to brushing their teeth regularly, you can incorporate a fun game into the mix to keep them brushing for the full two minutes. Throw a tooth brush dance party or put on a two-minute interactive tooth brushing video on YouTube! After they complete the task, you can put a reward system in place to help keep them motivated. For example, you can put a calendar on the bathroom wall and every day they get to put a sticker on the calendar if they brush their teeth. After a certain number of stickers, they can get a prize!
Visit Us at Growing Smiles Pediatric and Family Dentistry
Looking for a family-oriented dental office in Vorhees or Mount Laurel, New Jersey? Growing Smiles Pediatric and Family Dentistry is dedicated to helping our community smile brighter. Please contact our office to schedule a visit!