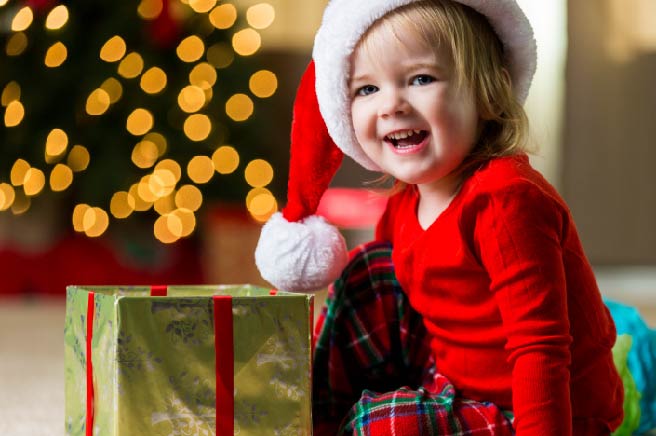 Every parent knows how challenging it is to establish good dental hygiene habits in kids, but the holidays are the perfect time of year to encourage them to take care of their teeth with gifts that make dental health fun and easy.
Smart Toothbrushes
Gone are the days of using regular manual toothbrushes as stocking stuffers. Splurge on your kids' teeth with the Philips Sonicare electric toothbrush or the Kolibree smart toothbrush. Both brushes include apps for your smartphone that have interactive brushing games that monitor your child's brushing habits and encourage them to brush more thoroughly by challenging them to advance in the game. They've been known to be so effective that Sonicare had to change the game to end after brushing was finished so kids would stop playing!
Water Flosser
Flossing is never a fun activity, and the dexterity needed for efficient flossing can be frustrating for little hands. The Waterpik WP-260 water flosser for kids makes flossing easy, quick, and fun, and it is a great option for kids with braces. They won't have to wrestle with regular string floss and you'll know their teeth are being cleaned effectively.
Sugarless Caramels, Chocolates, & Lollipops
Sweet treats are an inevitable part of the holiday season, but you can help curb the damage all of that sugar does to your kids' teeth by including some sugar-free options in their stockings. Founded by a dentist who wanted to make sweet treats healthier for teeth, Dr. John's makes xylitol-sweetened lollipops, hard and soft candies, and chocolates that are completely sugarless and can actually help prevent tooth decay and heal tooth enamel. Drop a generous handful of these in your kids' stockings and they won't even miss the sugar.
Everyone at Growing Smiles Pediatric & Family Dentistry wishes you and your family a happy and healthy holiday season. We specialize in dentistry for kids, and it's never too early to start your children on the road to good dental hygiene. Start the new year off on the right foot and contact us today to schedule appointments for your child.