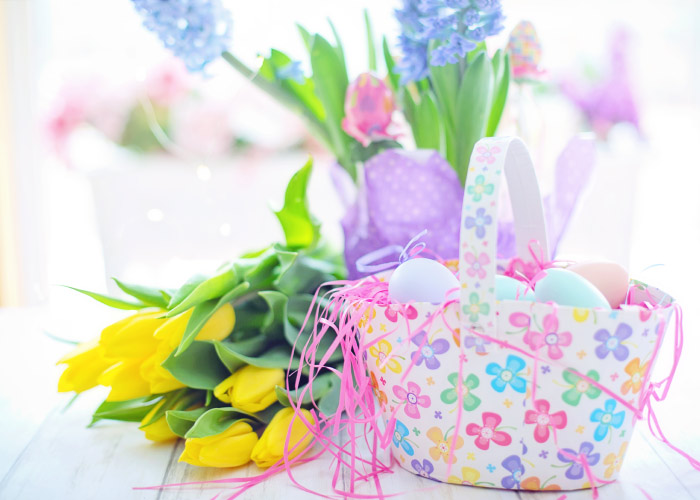 Springtime brings store shelves full of chocolate bunnies and colorful Easter baskets. But before you go filling those plastic eggs full of jelly beans and candy, consider your child's dental health. While we don't want to rain on anyone's Easter parade, we want to present you with some options for a healthier smile.
Get Crafty & Creative

There are many ways to have fun without overindulging in sweets. Kids love painting and getting creative with color. You can hand-paint boiled eggs with your child this Easter with non-toxic watercolor paints. As an added bonus, they can eat the hard boiled eggs for lunch on the school days following Easter. Eggs are packed with protein and easy for little hands to eat. Plus, they are sugar-free!

Basket of Fun Activities

Instead of colorful candies to fill that Easter basket, why not place some of your child's favorite activities, small toys, and even necessities? Spring-themed pencils, stencils, stickers, and coloring books are sure to make any child happy. As are small toy items like mini cars, bubbles, or yo-yos. You can always include a new spring shirt, lip balm, or fun socks. The more color, the better!

Fruits & Veggies

The internet is full of fun ways to turn fruits and veggies into holiday-themed treats. You can make a cute bunny face out of a slice of pineapple, or feature carrots with greenery attached as "bunny food". Food can be fun, delicious, and healthy when you use your imagination.

Healthier Easter Eggs

When it comes to an Easter egg hunt, everyone loves getting those plastic bulbs filled with sweets. But sweets aren't the only thing you can fill eggs with. Try healthier small snacks like trail mix. Some parents like to leave quarters inside so that children can fill their piggy banks. There's also the heartfelt option of filling plastic eggs with a sweet message from parents or your favorite bible passage on a small piece of paper. Be sure to write the date.
Happy Spring & Happy Easter!
From our families to yours, we hope you have a safe and happy start to spring and Easter. As you enjoy your festivities and family traditions, we encourage you to try starting some traditions that are healthier for your smile.