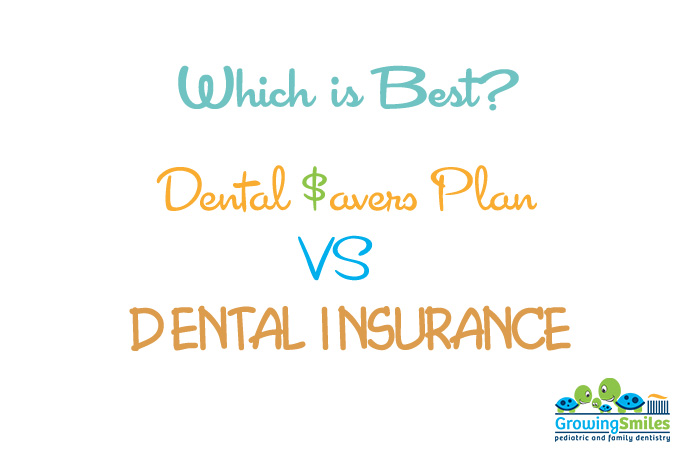 Did you know that there is an option to lower your dental costs, even if you do not have dental insurance? A Dental Savers Plan allows you to pay an annual fee to lower your treatment fees an average of 30-50%.  But how do you know which one is a better choice for you?  Here are the Pros and Cons of a Dental Savers Plans vs. Dental Insurance.
Dental Savers Plan Pros:
You pay one annual fee, which is usually significantly lower than the cost of the annual premiums for dental insurance.
You pay a reduced fee for the dental treatments that you need.  If you only require preventative treatment, you are not paying for the extra coverage provided by dental insurance for emergency items you may not need.
Benefits begin immediately.  There are no waiting periods for certain types of treatment.
Dental Savers Plan Cons:
You will have to pay a fee for all procedures, but at Growing Smiles, our Dental Savers Plan fees are very low. For example, a full set of x-rays is only $55, and an adult cleaning is only $50!.
If you require unexpected and/or extensive treatment, your fees will often be significantly higher than you would pay under a dental insurance plan.  
Dental Insurance Pros:
While dental insurance coverage varies, your cost when you visit the dentist will likely be significantly less.  On average, routine visits and x-rays are covered at 100%, basic services such as extractions and fillings are covered at 80%, and major dental work such as crowns and bridges are covered at around 50%.
If you require an unexpected and/or extensive treatment, your additional costs are limited to any copay, deductible, and coinsurance your dental plan requires. It is true that insurance can save you on high costs of restorative work, but if you cannot get dental insurance, you will save a significant amount of money with a Dental Savers Plan. For example, a $250 tooth extraction can go down to $100 with our Dental Savers Plan. 
Dental Insurance Cons:
The cost of the annual premiums is usually significantly higher than the annual fee for the Dental Saver Plan.
If you only require routine visits and x-rays, you may be paying for coverage that you do not need.
There is sometimes a waiting period, such as one-year, before the insurance plan covers some major dental procedures.
Everyone's situation is unique, so you really need to take a look at your own situation and the specifics of your available plan choices, along with the pros and cons outlined above, when deciding whether a Dental Savers Plan or dental insurance is best for you.  At Growing Smiles Dentistry, we want to help make your dental care affordable. We have many options for affordable dental care and our insurance and Dental Savers Plan information can be found here. Please contact us for more information.